Marilyn Schoeman Dow helps people develop and apply their ability to think and problem solve. Self esteem gets a boost in the process. Her practical, fast-paced, content packed keynotes and sessions, complemented by humor, keep audiences attentive, involved and motivated.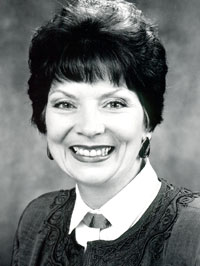 Programs focus on:
- creative and critical thinking
- teambuilding strategies
- managing change and risk
Ideas presented help you increase productivity, retain employees, cut costs, and gain the competitive edge.
Sessions contain substantive information, specific suggestions and proven processes that you people will retain and apply again and again. They leave with new options and new perspectives - more able to survive, more likely to thrive in the 2000's.
Marilyn Schoeman Dow, head of ThinkLink™, is an internationally known speaker on creative, innovative thinking and its practical application. She is a member of the National Speakers Association, former board member of the National Association for Gifted Children and board member and recent president of the American Creativty Association.
Marilyn invented the ThinkLink Idea Activator, ™
a unique tool for problem solving and innovation.
Her clients include Rockwell International, METRO
Seattle, University of Washington, Association of
Quality and Participation, Puget Sound Business
Journal, Helsinki University, Young Presidents
Organization, Association of Conference and Event
Directors International, National Association of Press
Women, Alberta Hospital Association, National
Association of Electrical Distributors, TI-IN Television
Network, Ogilvey & Mather, and Westin Hotels and
Resorts.
Innovative Thinking:
the shortest distance
between a problem
and its solution

- M.S. Dow
Contact Marilyn Schoman Dow
Return to the Home Page, read Testimonials